Seattle International Film Festival 2013 (May 16-June 9)
WE ARE VERY PROUD TO BE PARTNERING WITH THE HAPPINESS TREATMENT, WHO ARE A SPONSOR OF THE 2013 SEATTLE INTERNATIONAL FILM FESTIVAL. WATCH OUR TWITTER AND FACEBOOK FOR YOUR CHANCE TO WIN TICKETS! COME BY AND SAY HELLO!!!!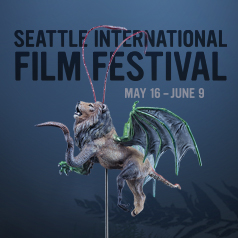 SIFF's mission is to create experiences that bring people together to discover extraordinary films from around the world. It is through the art of cinema that SIFF fosters a community that is more informed, aware, and alive. For more information and to order tickets head on over to www.SIFF.net right now! Do it! We want to see all our friends there!
Watch a video from the opening gala red carpet event here...
If you feel the sudden urge to click me...just ignore that mind control device under my shirt.